Leonie Riordan, Director and Owner of Red Note Music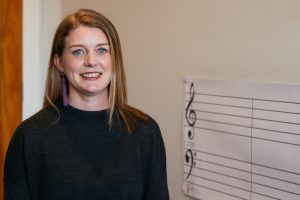 Leonie completed a Bachelor of Music at The University of Melbourne, graduating with majors in Piano, Harpsichord and Music Theory.  She completed her Advanced Certificate with ABRSM and her Licentiate with Trinity College, London on Harpsichord during her university years. Leonie graduated from The University of Melbourne with a Master of Music Studies in 2013, with an emphasis on classroom music education and conducting.
Leonie completed a Graduate Diploma in Education at The University of Melbourne majoring in Music and Drama and spent several years teaching classroom music and drama in private schools across Melbourne.  Leonie is continues to develop and extend her teaching skills and is currently undertaking work towards the Associate Teacher of Music offered by the AMEB.
Teaching piano has been a major focus in Leonie's life for over 20 years.  She has taught privately at her home studio, in student's houses, at private schools and in larger studios during this time.   She has successfully guided students through all levels of exams, from Preparatory to Diploma level, including VCE Units 3 & 4.  She has experience in many exam syllabuses, including AMEB, ANZCA and ABRSM.  Leonie has experience in teaching students from as young as 4 years to adult beginners and those adults returning to piano after a break.
Music / Teaching Qualifications
Bachelor of Music (University of Melbourne)
Master of Music Studies (University of Melbourne)
Graduate Diploma in Education (University of Melbourne)
LTCL in Performance (Trinity College, London)
Dip ABRSM in Performance
Kodaly Teacher Accreditation (Lvl 3 Primary)
Orff Schulwerk Accreditation (Lvl 3)
Cert IV (Business)
Licensed Kinder Beat Teacher
---
Sarah Gare, Studio Manager and Senior Piano Teacher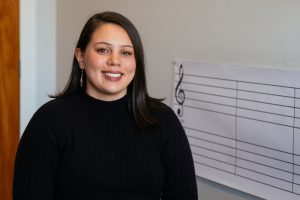 Sarah has been playing the piano for over 16 years and teaching for the last 8. She graduated with a Bachelor of Music from the University of Western Australia specialising in piano performance. During her degree she has performed in chamber ensembles, musical productions 'Wicked' and 'Miss Saigon', and accomplished two solo recitals. In 2017 after graduating, Sarah moved to Melbourne to further her pursuits in teaching and music. She is currently part of the band 'Classic Red' as the synthesiser/keyboardist playing gigs around Melbourne.
Sarah has taught privately and in schools with students ranging from age 4 to adults of different levels. She has experience guiding students through AMEB and ANZCA examinations. Her approach to teaching is to invite students to experiment and explore their creativity while building strong keyboard technique.
Availability:  Sarah currently teaches on Monday, Tuesday, Wednesday, Thursday and Friday.
Music / Teaching Qualifications
Bachelor of Arts (Double Major in Music Studies and Specialist Music Studies – Piano) (University of Western Australia)
Orff Schulwerk Accreditation (Lvl 1 and 2)
Licensed Kinder Beat Teacher
---
Romy Hernandez, Piano Teacher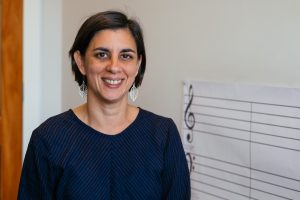 Romy is a pianist, improviser and composer born in Havana, Cuba. She is co-writer and arranger of Melbourne based bands El Numero Perfecto and Ella Trinidad. She performs regularly around Melbourne with latin bands and has played at WOMADelaide Festival and Port Fairy Festival to name a few.
Romy began to study classical piano at the age of 9. She graduated from the National School of Arts in Havana, Cuba in 2001 and spent the next 8 years teaching piano and performing as a classical pianist in Cuba and Panama. In 2009 Romy moved to Melbourne and it was around this time that she discovered a passion for composition and improvisation. She studied and graduated from the Victorian College of the Arts in jazz and contemporary music under Andrea Keller and Barney McAll.
Romy has more than 12 years experience teaching piano to students of all ages and skill levels. She has guided students thought AMEB examinations and has also taught jazz, improvisation and composition. As a piano teacher Romy ensures that the lessons are tailored to the student's interests whilst developing a strong theoretical and technical foundation.
Availability: 
Romy currently teaches on Monday, Thursday, Friday and Saturday.
Music / Teaching Qualifications
Master of Music in Performance Teaching (University of Melbourne, studying in 2020)
Bachelor of Fine Arts in Contemporary Music Performance (Hons) (VCA, 2017)
Advanced Diploma in Music Performance (Melbourne Polytechnic, 2010)
---
Rachel Lewindon, Piano Teacher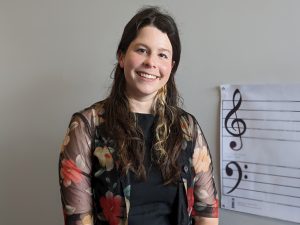 Rachel is an established composer, pianist and sound designer who has been playing piano for the past two decades and teaching for the last seven years. She moved from Brisbane to study Interactive Composition at the Victorian College of Arts where she completed her Bachelor of Fine Arts and Bachelor of Music (Hons) in 2018. She has a classical piano background, and now amalgamates her training with electronic synthesis and vocal techniques to create a unique sound bed.
She is a frequent performer in the Melbourne music and theatre scene where she performs solo and as a member of the avant-garde theatre company Finucane and Smith. Her work has been premiered nationally at the Melbourne Fringe Festival, Melbourne Cabaret Festival and among many local gig venues; and internationally at Wuzhen Theatre Festival in China, Hollywood International Moving Pictures Festival and Resonating Spaces in the Cook Islands.
She has a passion for fostering creativity and out-of-the-box thinking in her students by encouraging them to try new things, whilst developing a strong technical foundation.
Availability: 
Rachel currently teaches on Monday and Saturday.
Music / Teaching Qualifications
Bachelor of Music (Hons) (VCA)
Bachelor of Fine Arts (Interactive Composition) (VCA)
---
Sarah Duncan, Piano Teacher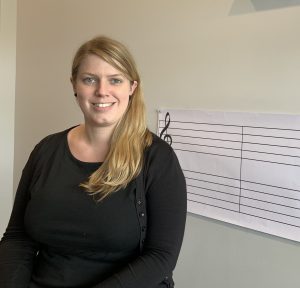 Sarah completed her Bachelor of Music with a Major in Performance/Graduate Diploma in Secondary Education at The Queensland University of Technology in 2011.
She also completed Grade 7 Singing through St. Cecilia School of Music and enjoyed singing in various choirs throughout her schooling and during her tertiary studies. She have performed at several private functions including weddings, themed events and ceremonies in both QLD & NSW.
Sarah has been teaching piano for the last seven years with students ages ranging from 5 years old to adults. She believes in the importance of tailoring music education to the needs of each student and she enjoys teaching in an environment that supports this outlook.
Availability: 
Sarah currently teaches on Tuesday, Wednesday, Friday and Saturday
Music / Teaching Qualifications
Bachelor of Music, Performance (Queensland University of Technology)
Graduate Diploma of Education (Secondary)
Licensed Kinder Beat Teacher
---
Jasmin Leung, Piano Teacher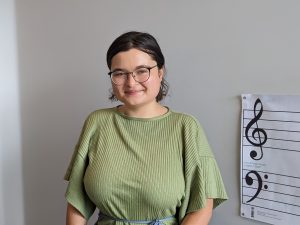 Jasmin Leung is a musician/composer who has recently moved from Brisbane to Melbourne. Through her teaching, Jasmin aims to foster a love of music alongside a solid foundation of musicianship skills. She as over 12 years experience guiding students towards their personal music goals – AMEB exams, Eisteddfods, preparing for tertiary studies or performing at a relatives wedding. She has worked privately, within schools and has also developed creative music workshops for children in regional communities. Jasmin studied composition at the Queensland Conservatorium of Music, the Academy of Music Ljubljana and the Hochschule für Musik Franz Liszt Weimar; and has also studied Kodály pedagogy. Her work as a composer has been performed in Australia, China, the United States, Germany and Austria.
Availability:
Jasmin currently teaches on Tuesday and Wednesday
Music / Teaching Qualifications
Bachelor of Music (Hons), Queensland Conservatism Griffith University
Master of Composition, Hochschule für Musik Franz List Weimar
Kodaly Trained Teacher